Thunderstorms and high winds came through our area this afternoon. Just before the storm hit, I heard something hit our roof. I looked outside. It wasn't raining yet and there was no thunder or lightning, so I went out to see what it was. I underestimated the wind, because I was almost to the front porch when another limb fell and hit me in the head, leaving a big bump there and a scrape on my neck. It was an exciting afternoon, but not the kind of excitement I prefer. The incident reminded me again of how much I have to be thankful for:
#1286. not losing consciousness or having a serious injury from that knock to the head by this limb.
#1287. the kids stayed inside and were safe while I ran outside to check on the roof.
#1288. lessons learned (wait 'til you're sure the storm has passed to check for damage).
#1289. safety during the deluge the wind blew in.
#1290. the privilege of speaking at a curriculum resources class at the local community college (and leaving them with a great impression of homeschooling families, I hope!).
#1291. the great companies I get to work with as I review their products.
#1292. family members who care about me and offer to get out in the thunderstorm to take me to the hospital. (I didn't go.)
#1293. more rain! (We're planting our garden on Friday!)
#1294. ibuprofen and caffeine to take the edge off my headache so I could do my presentation tonight.
#1295. readers who are kind enough to read my gratitude list even when it jumps back and forth among subjects because I'm tired and this knot on my head really hurts! Thank you!
What blessings did you see around you today?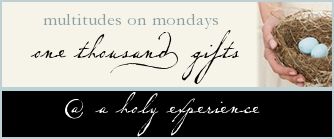 Photo credit: Jennifer A. Janes