I admit it. I've been hiding out since Roo's specialist appointment last Monday. It was both what I expected and nothing I ever dreamed. I like the specialist very much. He was thorough and looked at the whole picture. He took the history and ordered the labs I anticipated. I wasn't expecting the diagnosis now added to Roo's chart or the referrals he recommended as "next steps." I know this is all very vague, but I'm still having a hard time processing everything and am not quite ready to "go public" with details. Suffice it to say that we desperately need your prayers. Roo will be having more testing and will be evaluated by new specialists (in specialties we've never visited before) in the near future. We need some answers and a resolution to the issues we're dealing with.
Despite everything, I'm still counting my blessings, including:
#856. every moment with my sweet girls.
#857. a husband who walks every path our lives take us down, joyful or heartbreaking, right by my side.
#858. words of encouragement and support and the assurance of being lifted in prayer by friends, near and far.
#859. the unexpected opportunity to cool off at the zoo.
#860. free summer classes at the local library, including a very informative gardening class.
#861. the fun we had decorating and preparing for VBS.
#862. the joy of seeing two children make public professions of faith . . .
#863. . . . and the honor of praying for the two youth who surrendered to the ministry.
#864. the brief respite from the heat—a  couple of days of cooler temperatures!
#865. the continued times of reading and discussing the Word together as a family.
What gifts are you thankful for today? Join us!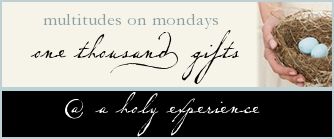 Photo credit: Jennifer A. Janes