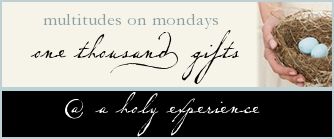 Gratitude
Note: This post should have gone up yesterday, but technical difficulties prevented my posting last night. It's never too late to be grateful, right?
During all of my soul searching, I have found that I am not doing as well in the gratitude department as I have in the past. I need to go back to the basics, so that's what I'm going to do today:
#1381. My wonderful husband. (We're celebrating eleven years of marriage on the 7th!)
#1382. Two beautiful daughters.
#1383. A place to live.
#1384. Reliable transportation.
#1385. Food to eat.
#1386. Electricity.
#1387. Air conditioning for those record-setting, triple digit days.
#1388. Loving family members.
#1389. Friends who love us like family.
#1390. Two cats who have been with me for almost sixteen years.
#1391. An internet connection that helps me to fulfill God's purpose for me.
#1392. Wonderful books to read.
#1393. The privilege of owning multiple copies of God's Word to read whenever I want.
#1394. Freedom to attend corporate worship publicly.
#1395. A computer.
#1396. Provision for this day.
#1397. Some rain yesterday. (Not as much as we needed, but we're thankful for every drop!)
#1398. Laughter to ease the stress of this life.
#1399. Tears to heal the pain.
#1400. The ability to write to share the journey.
Giveaway Winners!
I had two giveaways end over the weekend. Thank you to everyone who participated and helped spread the word!
The winners are as follows:
One copy of Different Dream Parenting by Jolene Philo:
Two copies of What's in the Bible? Volume 1: In the Beginning DVD:
Please leave a comment and let me know what you're grateful for today!
Like what you read? Subscribe so you won't miss a single post!