If you're planning to go to The 2:1 Conference, you may have already noticed that the schedule has been streamlined. Some hard decisions had to be made, and several breakout sessions were cut, including the special needs homeschooling session that Heather Laurie and I were going to co-host. That's the bad news.
The good news is that God has made a way for me to go to the conference! I received two partial sponsorships from some wonderful companies I have done reviews for to help with my expenses. Total Yearbooks and Always Icecream are my sponsors! I am excited to report that these amazing companies are not only helping me get to 2:1, but they're sending some great surprises with me! The details aren't finalized yet, but there are good things in the works. If you're planning to spend time with me at 2:1, be ready to make the rounds with me as I share the benefits of these great companies with everyone. I have my work cut out for me!
Because God has made a way for me to attend the conference, I plan to host a special needs meet-up for those attendees who wanted to attend the special needs homeschooling session. This will be a great opportunity for us to connect and encourage one another! (And, of course, you'll be hearing more about the great companies who helped me get there!)
But there's more good news!
Total Yearbooks is now on Pinterest, so those of you who are addicted to Pinterest can learn more about Total Yearbooks and plan ways to use the surprise I'm bringing to the conference.
AND, as if that weren't enough great news, when the girls logged on to Always Icecream today, there were new games loaded for the younger princesses. The people behind Always Icecream work quickly, and they deliver. The site is now geared towards K-8th grades!
On a more personal note, I have much to be thankful for:
#1241. great sales enabled us to stretch our Christmas gift cards far beyond what we imagined. (But I left these great shoes at the store. I wonder why?)
#1242. Princess Roo's endocrinology appointment has been scheduled for April, which is an astonishingly short wait.
#1243. Roo's first OT appointment in a new facility with a new OT went better than I had hoped.
#1244. new books (another Christmas gift card!).
#1245. the opportunity to start a home business with my children.
#1246. the honor of being chosen as Arkansas Women Bloggers featured blogger for March.
#1247. the progress Roo is making in her studies that's so tremendous it brings tears to my eyes.
#1248. shows like The Electric Company that reinforce what Roo is learning and help reading "click" for her.
#1249. a furry, purring friend who sits on my lap every evening when I read my Bible.
#1250. God's blessings on my husband's work this month.
What blessings are you counting in celebration today?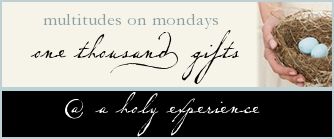 Photo credit: Jennifer A. Janes