Wow! The holidays went by quickly, and my Christmas and New Year blogging break is over. I'm happy to be back but glad I took the time to rest, recharge, and spend quality time with my family.
I'm starting Bible in 90 Days again today! If you haven't ever accepted the challenge, start today! I'm reading along with Jessica at Jezamama and am excited to get started tonight! Reading the Bible in such a short period of time works very well for me. I feel a tremendous sense of accomplishment and can more easily see the big picture by reading from cover to cover very quickly. It's not too late for YOU to start!
More gifts:
#1146. the chance to participate in Bible in 90 Days with a group again.
#1147. God's faithfulness and provision in 2011.
#1148. the anticipation of the "new thing" God will do in 2012.
#1149. the excitement of planning for the 2:1 Conference.
#1150. beautiful gifts that come in the mail.
#1151. the fun of learning to "text" your sister.
#1152. late nights watching Christmas movies as a family.
#1153. sleeping in after those late nights!
#1154. vacation time to take during the week after Christmas.
#1155. time spent with family—immediate and extended.
#1156. holiday travel safety.
#1157. receiving gift cards for Christmas . . .
#1158. . . . and the resulting shopping trips.
#1159. a day at home to relax before jumping back into the routine.
#1160. listening to '80s hits, laughing and singing along, as we rang in the New Year.
#1161. the girls' responses to our silliness.
#1162. the wisdom to realize some of those songs weren't as great as we thought they were!
#1163. watching the girls' faces light up over simple gifts.
#1164. the abundance God blessed us with.
#1165. God's faithfulness to make a way where there seems to be no way.
What are you thankful for today?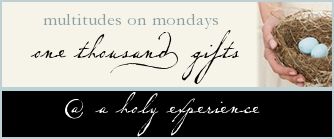 Photo credit: Jennifer A. Janes