I kept us so busy last week to keep Princess Roo's thoughts off missing her sister that we were almost as tired as BookGirl by the time she got home from camp! We spent the weekend together as a family. We had a nice dinner out to welcome BookGirl home, celebrate her birthday, and wish DH a happy Father's Day. We took naps, watched some movies together, and served in Kidz Worship on Sunday morning.
As usual, I have so much to be thankful for:
#1356. Having my precious BookGirl back from camp!
#1357. A great fellowship with our Sunday school class. (Roo enjoyed the toys!)
#1358. A beautiful flower in our neighbor's front yard. We enjoy the sight every time we go outside.
#1359. Rain! It rained a few times over the weekend, and it was much-needed. We had slipped back into a moderate drought category.
#1360. My daughters' sense of style makes me smile. (I have no idea how Princess Roo managed to put together this '80s retro look all by herself!)
#1361. The opportunity to rest and relax with my family this weekend.
#1362. A nice dinner out, which was made even better by the fact that BookGirl had a coupon for a free kid's meal from the library's summer reading program!
#1363. The excitement of the upcoming What's in the Bible? Facebook party! (You're planning to join me there, right?)
#1364. A wonderful husband who is a great father to our children.
#1365. A heavenly Father who is the best father, and who loves me despite all my failures and shortcomings!
What did you do over the weekend? What are you thankful for today?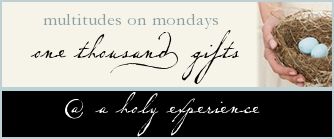 Photo credit: Jennifer A. Janes (some edited with Instagram)