We're going to have another busy week! Roo has a GI appointment this week, and we are going to have to come up with a game plan to get her growth back on track. I'm getting pressured by other specialists who want to know what we're doing to "fix" this, and I've tried everything the GI has suggested so far—but nothing has worked. So we're going to go back and try again.
Even though last week was very emotional, I still have a lot to be thankful for!
#1061. A little more rain!
#1062. That the girls did not buy this sign and hang it on our door! (PD thought it was hilarious!)
#1063. The excitement of Game 6 of the World Series.
#1064. The Cardinals' World Series victory!
#1065. The Southern belle and angel that attended the fall festival at AWANA with me.
#1066. The fun of making johnny cakes for lunch last week as part of our social studies lesson.
#1067. The girls' delight at learning patriotic songs and the history behind them, especially "Yankee Doodle" and "Yankee Doodle Dandy."
#1068. Books that speak to the parts of my heart I'm not brave enough to show anyone.
#1069. Phone conversations with good friends.
#1070. Shared laughter.
#1071. Companionable silence.
#1072. Gray hair (also known as my "shimmering highlights").
#1073. Emerging wrinkles.
#1074. Cooking ahead so we can enjoy the weekend.
#1075. Friends who are always willing to help.
#1076. Central heat.
#1077. Music that helps me focus on God when I'm down.
#1078. The beauty and creativity of the cakes on Cake Boss. (Thanks, Netflix!)
#1079. Venison chili.
#1080. That it's finally soup and chili weather!
What gifts are you thankful for? Join us!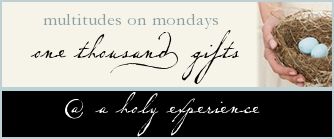 Photo credit: Jennifer A. Janes