Confession: I'm struggling. When I wrote last week's Mustard Seed Planting post, I had finally gotten it together. And then more "stuff" piled on. And some of it got resolved. And then more stuff piled on and got resolved. And then some of the stuff that got became unresolved again. Without going into the details of all the craziness that's going on around here, you get the picture, right?
I am working to stay focused on the positives I can see in our situation—ways God is at work in the small things, which encourage me that He is at work in the big ones too, even when I don't see it. I read a verse last week that leaves me with a very clear choice: I can choose to trust God or give in to fear and anxiety, which are clearly not from Him (2 Timothy 1:7, Philippians 4:6-8).
"How long will you waver between two opinions?" 1 Kings 18:21 (NIV1984)
How long, indeed? It's time to make a choice. He is at work in our circumstances, and, more importantly, in us. I need to make the choice, once and for all, to trust Him. It's time to quit allowing fear to run rampant every time the battle gets heated. Instead, I want to be so faith-filled and confident in God and His abilities that I run into battle, eager to take on the fight, because my victory is sure.
Here are some of the ways I see Him at work:
#1196. the plumber was here about something else when our water line burst.
#1197. the line burst outside, meaning no mess in the house.
#1198. the plumber located the break quickly, so our water bill shouldn't be sky-high.
#1199. the break was near the house instead of being the part of the line under the driveway.
#1200. the amazing way God provided for a much-needed date night for DH and me.
#1201. the $0.45 toy sale we ran across for a treat for the girls while going to Princess Roo's latest specialist appointment. (All of this for less than $5—tax included!)
#1202. the grace to make it through the very long afternoon at the GI Clinic with my Princess.
#1203. laughter at the moments it's most needed.
#1204. safe travel to and from another specialist appointment—especially when it's dark and I'm exhausted.
#1205. spending time in God's Word daily and seeing messages meant just for me—and just for this time!
Please share the verses God is using to change your life by leaving a comment or linking up here or at Mom's Mustard Seeds. Rebecca and I love to see God at work through His Word!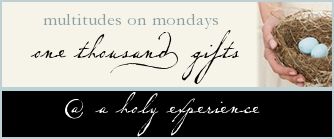 Photo credit: Jennifer A. Janes