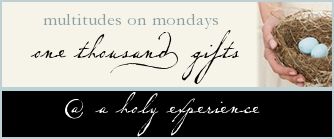 If you've been reading my Friday wrap-up posts, you know that I'm studying The Battlefield of the Mind and other books to help me change my destructive (and non-productive) thinking patterns so that I can overcome, once and for all, the fear and anxiety that have dogged my every move for years. It's not unusual to experience an all-out assault when you're determined to change something big. (For example, how much do you want to eat sweets or other junk when you've just determined to give them up so that you can reach your health and fitness goals? Right. A LOT.)
I don't know why I didn't see it coming, but I was caught off guard. On Saturday, I was hit with discouragement and despair about our circumstances. (The circumstances hadn't changed, but my thoughts about them did.) It was oppressive. I cried off and on all day (and I'm not a crier, except about sappy, emotional-sentimental things). I fasted, I prayed, and I meditated on Scriptures that I've been memorizing and focusing on that are full of God's promises about our situation. Finally, it broke. Although it took hours, I am thankful that it did not last longer. In the past I might have become depressed (I have struggled with that in the past) and have that oppressive feeling last for days or weeks.
By the end of the day on Saturday, I was able to give thanks again. My circumstances hadn't changed, but my mindset had. I was once again focused on God and trusting Him to work in our situation. I thanked Him for everything I could think of, small and large. As I did, I realized how truly blessed we are.
Here's part of my list:
#1416. Today all the bills that need to be paid are paid.
#1417. Today I have groceries in my cabinets, fridge, and freezer.
#1418. I have a husband who loves me and has stayed by my side through good times and bad for over eleven years.
#1419. I have two beautiful little girls who make me smile every day.
#1420. I have a roof over my head.
#1421. My home is in a safe neighborhood.
#1422. We have reliable transportation.
#1423. We have access to medical care.
#1424. We have wonderful family, friends, and church family.
#1425. God has always been, is, and always will be faithful to take care of us!
#1426. All of the people who read my blog and are helping me to grow.
#1427. The opportunity to bless others through my blog as well as in real life through service projects the girls and I participate in.
#1428. What I'm learning through my personal studies and through the Faithful, Abundant, True study I began at church.
#1429. For those who understand my need to say no to some activities so I can be where God has called me to be during this season.
#1430. For another opportunity to share a post at The Homeschool Village. (Click over and join me there!)
How do you fight discouragement and despair?
Photo credit: Jennifer A. Janes