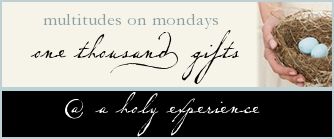 I have counted gifts on this blog since July 5, 2010. Practicing gratitude has changed my life, but in recent months, I haven't been as faithful about posting my lists here—or about the practice in my daily life. In an effort to be more intentional with my gift-finding and list-keeping each day, I'm taking Ann Voskamp's Joy Dare. I'm a "to-do list" kind of person, so having an assignment each day of gifts to look for and record is right up my alley. I'm glad to get back to this and can tell the difference when I'm actively searching for God's blessings in my life and when I'm focusing on the other stuff.
#1491. soft fur on Lilly kitty
#1492. sparkling baby teeth in little mouths
#1493. freshly scrubbed kitchen sinks
#1494. Princess Roo – her name means "bright"
#1495. BookGirl – her smile brightens my day
#1496. Jesus – the Light of the World
#1497. the sun that lights my days, provides warmth, and helps plants grow
#1498. Christmas lights
#1499. light twinkling in little eyes when they laugh
#1500. the plastic tiaras my Princess wears, which remind me of the crowns we'll receive as rewards in heaven and will promptly throw at Jesus's feet because we'll be so overwhelmed by His glory
#1501. little arms circling around my neck or my waist as my children tell me they love me
#1502. handmade, hammered sterling silver jewelry
#1503. five perfect "V" formations that flew overhead, headed South with full assurance that their Creator will provide for them in the months ahead
#1504. a beautiful, full moon on a cold winter night
#1505. my mom's car – always happy to see her
#1506. the surface of still water
#1507. kisses from my Princess
#1508. moments of giggles when I tuck BookGirl in
#1509. sunlight streaming through breaks in clouds
#1510. salvation
#1511. peace
#1512. joy (when I choose it)
#1513. "I love you."
#1514. purring companion sitting on my lap while I read
#1515. growing girls who still sit on my lap and let me hold them
#1516. a broken pipe
#1517. no room in the budget to get the pipe fixed
#1518. serious cold front moving in that makes pipe repair critical
(3 "ugly beautiful" gifts that give God a chance to show up and show out)
#1519. the dimple that appears near BookGirl's left eye when she smiles
#1520. gray hair and crow's feet on DH – we've stuck together long enough to see the changes
#1521. the twinkle in Princess Roo's eyes when she's up to something
#1522. fun with friends at our homeschool group's Christmas party
What blessings are you celebrating today? Will you join me in the Joy Dare?
Photo credit: Jennifer A. Janes