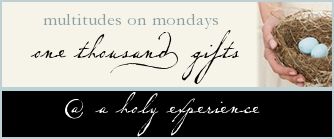 Note: It has been several weeks since I've written a gratitude post. I haven't quit being grateful. I make time every day to be thankful for all the gifts in my life. I haven't written a post in a while because I spent time participating in the 7 Tools Book Club this summer.
Last week was rough around my house. Both kids were sick, and by the end of the week, I wasn't feeling well either. As a result, we're a bit behind on things at my house, but I still have so much to be grateful for:
#1401. Rain this weekend that is further easing the drought conditions.
#1402. Friends who pray for me immediately when I ask, without knowing all the details.
#1403. The progress I'm seeing in lining my thoughts and speech up with God's Word.
#1404. What I'm learning in my Faithful, Abundant, True study on Sunday nights.
#1405. My husband's love and support.
#1406. The progress I'm seeing in Roo's school work.
#1407. The virtues we're all getting better at living out as we work on them.
#1408. My girls coming to me in the middle of the night when they need me.
#1409. How well our social studies and science plan is working out this year.
#1410. The growth (however small) of my two part-time businesses.
#1411. The opportunity to take field trips to support our learning experiences.
#1412. The peace and joy that is returning to my life as I focus on God's Word and His promises (instead of my circumstances).
#1413. Online friends who help me blog better (and smarter).
#1414. A great time as a family at the fair parade.
#1415. A wonderful back-to-school picnic with our local homeschool group.
Disclosure: This post contains affiliate links. I only promote products my family has personally used and found beneficial. Any commissions I receive help us buy homeschool materials and pay for medical expenses and therapy costs. Thank you for your support!
Photo credit: Jennifer A. Janes