UPDATE: I WON Special Needs Blogger 2012! Thank you so much for voting and for your support and encouragement!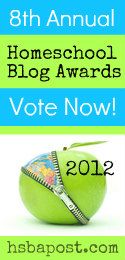 I am humbled and honored. Someone—one of you—nominated this blog for the Homeschool Blog Awards 2012—TWO of them! I never anticipated or expected even one nomination, so I'm really surprised at two!
More than winning the bragging rights of the official award or receiving a prize, these nominations mean that you see value in what you find here on this blog. To me, those nominations mean that God is touching lives through the thoughts and feelings I share here, that you are encouraged and helped by some of these posts.
THANK YOU! These nominations encourage me so much.
Now that I've been nominated, you need to vote if you want me to win! You can read the full directions for voting here.
Now, it's time to vote. Please vote once per day (you can use multiple computers or devices per day, but only one vote per device) from now through November 16. I have put links to the categories I was nominated for below. Just click the link each day, and vote!
 Best Encourager 2012: http://hsbapost.com/best-encourager-2012/
Best Special Needs Blogger 2012: http://hsbapost.com/best-special-needs-blogger-2012/
Thank you for the nominations and your support during the voting process!