A new homeschool science resource launched today. It's called The Homeschool Scientist, and it's currently on Facebook and Twitter, with a web site to launch next month. For a brief introduction, check out this post at The Homeschool Village. The creator of The Homeschool Scientist is Marci Goodwin, a fellow team writer at the Village!
You might wonder why I'm so excited about the launch of The Homeschool Scientist. It's because I'm a science wimp. I have done more science experiments and activities with the girls this year than ever before, but I'm still a bit squeamish about some of it. Take, for example, the experiment I mentioned in Friday's post. We were supposed to take the lids off those jars of milk and smell them daily for seven days.
Well . . . today is day 3. Those jars are in the trash. When the one on top of the fridge looked like this
and had an enticing aroma to match, I decided I would not be taking the lid off for the rest of the week. We had a discussion about bacteria, completed that lesson, and it went into the trash can (which I need to remember to take out as soon as I finish this post).
Fortunately, there's . . .
#1166. grace for the science-challenged homeschooling mom. (Three cheers for The Homeschool Scientist!)
#1167. Bowl games to enjoy with my husband, even if we weren't able to attend live (but saw lots of people traveling through on their way there). Woo Pig Sooie!
#1168. the fun of rooting for a rival in the BCS Championship Bowl. (Dare I type it? Geaux Tigers!)
#1169. the blessing of some "hand me down" fun for the girls.
#1170. texts that bring laughter to the entire family.
#1171. being able to relax and enjoy writing again.
#1172. new opportunities God is opening up for me.
#1173. gradually getting back into the homeschool "routine" after our Christmas break.
#1174. seeing progress with Roo's school work . . .
#1175. . . . and beginning to convince her that her lessons don't really take all day long!
What are you thankful for today? I'd love to hear about your gifts!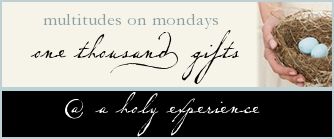 Photo credit: Jennifer A. Janes