Immunology and baptism really have nothing to do with each other. They're just the main topics of my thoughts tonight.
This week we'll have Princess Roo's immunology appointment. We're seeing the immunologist at the children's hospital—not her allergist/immunologist, the one who prescribes her infusions. This man is the one who diagnosed her as failure to thrive last summer, and I expect that he'll want her to do a trial off her infusions so that they can see how she does and do more testing on her immune system this summer. She's had a great winter, so I'm not opposed to that plan, but I need for this man and the one who prescribes her infusions and oversees her allergy situation to work together on a plan for this spring and summer. Please pray for them to have wisdom to know what's best for Roo and that they will be in agreement.
On an entirely different note, Princess Roo got baptized today. She made a public profession of faith after some private prayer time at home almost two years ago and has been fearful and apprehensive about being baptized. She really wanted to get baptized but has struggled all this time with the process of getting baptized. The baptistry at our church is really big for a little girl like Princess. Finally, she decided to face her fears. Our pastor prepared her well, and she was baptized today!
I am so excited and blessed by this precious moment in our lives that my gift list seems rather limited this week:
#1261. Ready for the big event. Our church family and extended family are waiting!
#1262. Entering the baptistry all by herself!
#1263. Her introduction to our church family.
#1264. The actual baptism!
What is your family celebrating this week?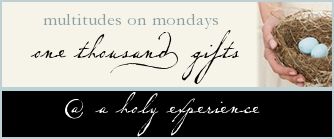 Photo credit: Jennifer A. Janes