The last several days have been exhausting. Last Thursday night, Princess Roo was up in the middle of the night with a stomach bug or GI issues. (I'm not sure which, but the result was the same.) Early Friday morning, DH left for the weekend to go to a business conference. The girls and I had a good weekend, but we missed DH. I don't sleep as well when he's gone, either, so I started this week tired. Yesterday we did lessons and made it to OT and dance lessons (mostly) on time.
Last night my product delivery was late, so I was up late preparing invoices and sorting orders. Today the girls and I completed our lessons and then headed out to spend the afternoon making deliveries. Now here it is, time to post a Mustard Seed Planting post. I've prayed since yesterday about what to put up, and I've got nothing.
Well, that's not exactly true. Tonight as we read Exodus 6 as a family, I saw a phrase repeated several times that has stuck with me. Here's one occurrence:
"I am the LORD." verse 2 (NIV1984)
If I really know and understand that God is the LORD, Yahweh, Jehovah, I've got a lot more than nothing to write about.
The same God who delivered Moses and the Israelites from Pharaoh in Exodus is the One who has blessed me abundantly:
#1276. God gave me the strength to be up and down all night last Thursday, . . .
#1277. . . . and still take care of the girls by myself on Friday.
#1278. God protected the girls and me . . .
#1279. . . . and my husband . . .
#1280. . . . and brought us all together again on Sunday.
#1281. God blessed the "girls' night out" my daughters and I had on Friday night with a meal at McAlister's Deli and a fun movie when we got home.
#1282. God gave us a beautiful day to enjoy the park on Saturday afternoon, . . .
#1283. . . . and a great friend to spend time with Saturday evening while the girls played.
#1284. God gave us merry hearts as we laughed while Princess Roo tried to show us how to make a certain facial expression.
#1285. God lifted a burden that was weighing heavy on our hearts when we got a letter from the IRS in the mail with great news for us!
Please take a moment to share the verses God is using in your life by linking up at Mom's Mustard Seeds or leaving a comment here or at Rebecca's blog. I love reading your posts and find God using His Word to minister mightily to me—through you!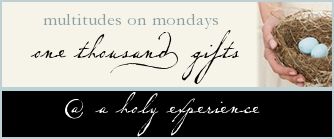 Photo credit: Jennifer A. Janes