I've got a mixed bag of topics today. I guess I'll tackle the name changes first. PD and Roo are big(ger) girls now, and they have decided that, while they don't mind my writing about them on the blog, they would prefer not to be called PD and Roo anymore. I already write about Roo (my younger daughter) as "Princess Roo" quite a bit, so I'll continue with that or just call her Princess.
My older daughter wants to be known as BookGirl or BG on the blog. I feel for her. She has a rare genetic condition that leads to an obsession with books and reading—especially mystery and adventure stories. I have the same condition. We're quite a pair. We can get lost in our stories—and in talking about them!
"Neurology" is the latest specialty that Roo, I mean Princess, has been referred to. I will take her to her first-ever appointment with a neurologist later this week. The good news is that the symptoms we were originally referred for have almost completely disappeared. I did, however, get some information today from another specialist that I need to bring up with the neurologist, and I'm not sure how to do that. If you would please pray that I'll have the words, and that the neurologist would be receptive and helpful, I would appreciate it! Please pray for my Princess too. If there's anything there to see, I need for the doctor to see it so we can take steps to deal with it!
And, as always, I have an abundance of gifts to count:
#1176. unseasonably warm evenings that are perfect for raking leaves,
#1177. playing with neighbors,
#1178. practicing bike- and scooter-riding skills,
#1179. and gardening—in Princess-y finery, of course!
#1180. Bible reading that pokes and prods in the dark spaces, making sure that all is brought to light.
#1181. late-night text and instant messages that say I'll finally meet online friends in April—that leave me too excited to sleep.
#1182. the joy of spending several hours working on my writing.
#1183. Saturdays with my precious family.
#1184. the companionship of a purring cat.
#1185. blog posts that uplift and encourage, speaking to the exact need I have.
What gifts are you counting today?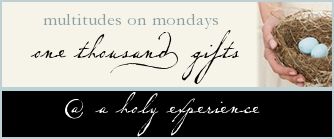 Photo credit: Jennifer A. Janes