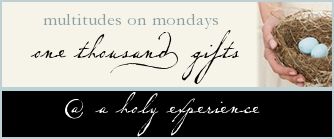 It has been a weekend full of soul searching. I have discovered some issues in my life that I need to deal with, and I have begun with heartfelt prayers of repentance and a new commitment to turn all of my concerns over to God and leave them with Him, trusting Him to do in and through my life what He deems best. (Yes, you'll be seeing some posts on contentment and more thoughts on intentional parenting soon. Being intentional hit me hard again when BookGirl turned nine and went off to camp.)
In the midst of the pain of repentance and the grace God extends to me in my weakness, I have a multitude of blessings to thank Him for:
#1366. The gentle way the Holy Spirit points out my failures . . .
#1367. . . . and welcomes me Home again when I repent and commit myself anew.
#1368. The joy of digging in the dirt, whether it's in the backyard or in the library.
#1369. The laughter that comes, even with seed dissections.
#1370. The feeling of accomplishment that comes with working hard on a project . . .
#1371. . . . and seeing it through to completion.
#1372. The ability of God's Word to encourage and strengthen me when I'm overwhelmed and discouraged.
#1373. The joy of writing (regularly) again.
#1374. The compassion of my family as I struggle with toe and back injuries.
#1375. The way God never fails to send words of comfort to me through the verses I read, the devotionals that come across my path, and the text messages of friends who don't even know I need a Word, but send one at the exact right moment anyway.
#1376. Digging into the Word of God as a family with a new Bible study from Grapevine Studies.
#1377. New materials from We Choose Virtues to use for character development.
#1378. Fresh veggies from our garden to our table. (Finally!)
#1379. Bedtime talks with my sweet BookGirl.
#1380. Sharing laughter and tears with Princess Roo.
What are you especially grateful for today?
Like what you read? Subscribe so you won't miss a single post!
Disclosure: This post contains affiliate links. These are products that we personally use and love. I would not become an affiliate otherwise. Any commissions received will go to purchase our homeschool materials or pay medical bills and therapy costs. Thanks for your support.
Photo credit: Jennifer A. Janes (some edited with Instagram)