It has been a rough day. I have felt physically ill because I spent much of the day focused on circumstances instead of on the Changer of circumstances. I have finally shifted my focus. I'm more at peace, and I'm trusting in His goodness and love again. As I was preparing to write this post to share some pictures and fun things we've done, a verse came to mind:
Therefore my heart is glad
and my spirit rejoices;
my body also rests securely.
Psalm 16:9 (HCSB)
I looked up the entire chapter because I wanted to see why my heart can be glad and my spirit rejoice, why my body can rest secure. It's a beautiful Psalm, and it brought even more peace to my heart. I highly recommend that you read the entire chapter.
I have so many things I'm thankful for today, and lots of wonderful pictures to share!
#1296. the beautiful weather on Saturday that made our family celebration of Easter an outdoor event.
#1297. all the fun we had with sidewalk chalk,
#1298. bubbles,
#1299. cheap plastic frisbees,
#1300. and empty plastic eggs.
#1301. recent rains that have significantly eased the drought conditions.
#1302. enough "drying out" that we can plant the garden.
#1303. lots of time to work on vitamin D production.
#1304. Princess Roo's love of critters,
#1305. and her ability to calmly remove herself temporarily from social situations when she gets tired and overwhelmed.
#1306. beautiful dresses to wear to church on Easter Sunday,
#1307. and the ability to enjoy yourself in them!
#1308. precious memories to cherish.
#1309. family and friends who make our lives richer.
#1310. the cross and empty tomb, which give meaning to it all.
What gifts of spring are you celebrating this week?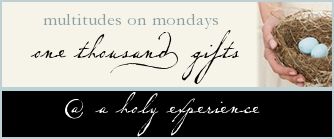 Photo credit: Jennifer A. Janes