I've almost finished reading the Bible from cover to cover again. As I made my way through 1 John today, I thought (again) of the many ways I am blessed. I have so many friends and family members who genuinely care for me and who often make sacrifices in the course of our relationships. I thought of everything I'm learning and of how much better life is because of the lessons God is leading me through (although sometimes I go kicking and screaming).
And, since Easter is only few weeks away and I've been meditating on Christ's ultimate sacrifice and what it means to me, I've realized how critical it is that I stay focused on what's really important and that I be content with the many blessings I have.
Since I haven't felt well for several days, all of this has melded together as my Mustard Seed Planting/One Thousand Gifts post.
The verses I'm meditating on are 1 John 4:9-11 (NIV1984):
"This is how God showed his love among us: He sent his one and only Son into the world that we might live through him. This is love: not that we loved God, but that he loved us and sent his Son as an atoning sacrifice for our sins. Dear friends, since God so loved us, we also ought to love one another."
In addition to the love of God that is so great I can't fathom it, here are the ways I'm seeing His love in those around me as we strive to love one another—and in our circumstances:
#1265. A zookeeper who let the girls pet a tortoise—first time ever! Her job would have gone more quickly without that small sacrifice.
#1266. Using our precious last minutes at the zoo so the girls could spend time at their favorite exhibit.
#1267. A family field trip where DH made the sacrifice to make sure the girls saw the things they were interested in.
#1268. Phone calls and texts that go back and forth into the wee hours of the morning as we lift up prayers from Psalm 91 for each other.
#1269. Friends who become business partners and are more interested in working together than "looking out for number 1."
#1270. Friends who are willing to lift my family and me up in prayer, even when their own family is going through a rough time.
#1271. Friends who allow me to return the favor, sending prayer requests even though they know we're struggling. (What better way to get your eyes off yourself than to pray for someone else?)
#1272. Rain that comes in slow and steady, without the predicted severe weather to accompany it.
#1273. My eight-year-old's ministry to me as she helped with laundry and grocery shopping yesterday.
#1274. Seeing tiny leaves coming out on tree limbs we thought had died in the drought last summer.
#1275. My six-year-old's gift of making us laugh, lightening the mood around our house regularly.
How do you see His love at work in and around you?
Please share the verses you're memorizing or meditating on this week by linking up or leaving a comment here or at Mom's Mustard Seeds. Rebecca and I love to read your posts. They are a blessing to us!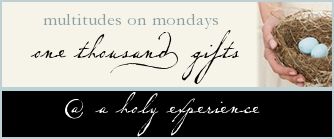 Photo credit: Jennifer A. Janes