I had hoped to get up some reviews, notices about some great Facebook and Twitter parties coming up (check my Facebook page and Twitter feed for those), a 2:1 wrap-up post, and a dance recital post by now. Obviously, that hasn't happened—yet.
I had bronchitis the week that I left for 2:1. I started feeling better, and then I developed an ear infection and sinus infection. I have had a tube put into one eardrum and am on my third antibiotic in three weeks. I'm waiting for cultures to come back so the ENT can see what this is and how to kill it. And tonight, I feel like it's moving back into my chest. Please pray for me! I desperately want to feel better and get my energy back!
I'm going to share several pictures of some things we've done as part of my weekly gratitude post (yes, I'm behind on those too). I'll try to give you more pictures and information on these events as soon as possible!
Some of the many reasons I'm thankful:
#1321. Two beautiful reasons that make Mother's Day more special than ever.
#1322. A great weekend doing all the "girly" things that go along with a dance recital.
#1323. Finally meeting some of the women I've developed friendships with online over the past couple of years. (More pictures with labels coming later!)
#1324. Posts from new 2:1 friends like this one that make me laugh . . .
#1325. . . . and posts like this one that made me cry. (God is so good!)
#1326. Mother's Day afternoon at a science museum.
#1327. Enjoying the Bodies Revealed exhibit with BookGirl. (She has been studying anatomy this semester and shows a strong leaning toward medicine and science for future courses of study. The human body is amazing!)
#1328. Some rain for our garden.
#1329. Trusting and resting during this illness.
#1330. Support and encouragement from friends and family members.
What are you especially thankful for today?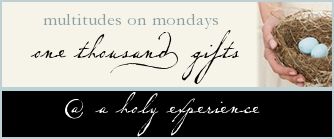 Photo credit: Jennifer A. Janes