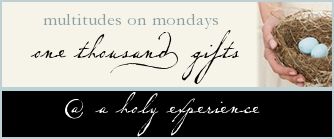 It's Thanksgiving week! I can't believe this year is going by so quickly. Having a grateful heart has changed my life, so this week, like every other week, I have a list of blessings to share with you!
#1476. My generous children.
#1477. The ability to give to others less fortunate than we are.
#1478. A neck that moves the way God designed it to move.
#1479. Laughter while cleaning out dresser drawers with the kids.
#1480. Princess Roo is feeling better after a rough weekend with some upper respiratory stuff.
#1481. The possibility of another book signing next month for BookGirl.
#1482. The readers (YOU) who nominated me for TWO Homeschool Blog Awards . . .
#1483. . . . and those of you who let me know through Facebook conversations that you were voting for me. (Thanks!)
#1484. Long conversations with my beautiful BookGirl about the books she's reading.
#1485. Central heat for chilly fall nights.
#1486. Homemade pumpkin muffins.
#1487. Princess Roo running a low-grade fever this weekend. (It means her immune system is trying to mount a response to the infection—even though her overall IgG level is low.)
#1488. Stories for social studies that draw us into the period we're learning about.
#1489. The opportunity to have a light week of homeschooling this week as we celebrate Thanksgiving with family.
#1490. An entire week with NO dance lessons or therapy appointments! It's a real vacation!
What are you thankful for this week?
Photo credit: Jennifer A. Janes