A Lesson in Being, Not Doing
I've beaten myself up for weeks because I feel like I'm behind with everything. I have left so many things undone. There are emails in my inbox that need to be dealt with and things in my house that I am slowly attending to as I'm able.
I've been frustrated because I don't have the TV- or Pinterest-perfect life. (Of course, I don't remember June Cleaver having to take the Beaver to a few therapy appointments a week or to out-of-town specialist appointments three weeks in a row, either.) I have based my worth on how much of my to-do list gets done each day.
This weekend, I did get a lot done. I made lunch for some neighbors who are moving. I did a LOT of laundry and got it folded, hung up, and put away. I had my weekly wrap-up post published on Friday instead of Saturday (or worse, Sunday!). I vacuumed and changed sheets. I edited and scheduled the Be Fully Persuaded post for this week. I thought about other writing projects I want to work on.
And I started realizing that I'm being too hard on myself. It is important to do all of those things, but they don't define my value and who I am. I'm deciding whether I'm "good enough" based on what I do.
The Bible tells me that I'm good enough because of Whose I am. I am a child of the King, and He loves me no matter how long—or short—my to-do list is.
As I reflected on this truth, I realized that I'm caught up on what matters most. This week, I'm going to be thankful for those things.
#1461. A good visit with our neighbor before he headed north again.
#1462. Attending BookGirl's first book signing with her and listening to her excitement as she talked about the event.
#1463. Attending a Sunday school fellowship on Saturday evening and putting together a dozen shoe box gifts for Operation Christmas Child.
#1464. Making homemade bubble solution for the girls and taking time from my household chores to watch them (and a little friend) enjoy them.
#1465. Soaking in the Word as Beth Moore taught in our final DVD session of the Faithful, Abundant, True Bible study I've been doing on Sunday nights.
#1466. Stopping our homeschool lessons this morning to help Princess Roo work through some spiritual questions she had, including praying with her and reading a chapter of Battlefield of the Mind for Kids—at her request.
#1467. Being able to laugh at a "mishap" we experienced this morning. I was frustrated, but I managed to keep my sense of humor.
#1468. Shopping for free treats with the girls at the new CVS Pharmacy with the coupons we got in the mail.
#1469. Preparing our hearts for Christmas as we work through The Birth of Jesus (Grapevine Studies) as a family each weekend.
#1470. Conversations with my husband.
#1471. Enjoying episodes of a TV show on Netflix with my husband—and trying to figure out the mystery together.
#1472. Precious notes from my girls.
#1473. Sitting between my daughters on the couch, reading science and social studies lessons to them.
#1474. Meals with my family together around the table.
#1475. The reminder that being…
who God created me to be
with my family
alone in the Word and prayer with my Creator
…is exactly what God intends for me to do.
In what ways are you just being today?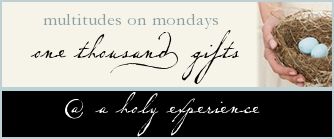 Disclosure: This post contains affiliate links. See my disclosure policy for more information.
Photo credit: Jennifer A. Janes