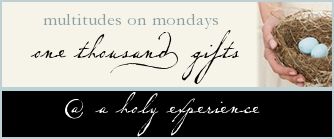 I'm doing the Faithful, Abundant, True Bible study with some women at church, and we're in the "Abundant" section now. Priscilla Shirer is teaching this section, and in last week's session, she said something that really resonated with me:
"True abundance is really seen when you're sitting in a prison circumstance, when you're eye to eye with an impossible situation, and right in the heart of your impossible, you experience the fullness of God. When . . . we can pour out our honor and praise upon God . . . in spite of what we're going through—that, my friend, is the abundant life."

Priscilla Shirer, Faithful, Abundant, True, page 69
I often find myself waiting for things to get better so I can experience the abundant life. I know that I'm supposed to express gratitude and praise to God during the tough times, but it didn't occur to me that taking my eyes off myself and my problems to bring praise, honor, and glory to the Creator of all things, the One in which all things hold together, was experiencing the abundant life. I do feel better—more peaceful and hopeful—when I stay focused on Him. That sure sounds like abundance to me—peace and hope in the midst of difficult situations. Those are priceless!
In addition to an abundance of peace and hope when I stay focused on God and His promises, I am blessed with abundance in other areas of my life too:
#1441. Safe travel to and from Princess Roo's endocrinology appointment.
#1442. Fun, free, family-friendly activities to do in our town.
#1443. Helping the love of my life celebrate another birthday.
#1444. Good news from endocrinology and immunology for Princess Roo.
#1445. A husband who recognizes and appreciates the sacrifices I make to keep everything going at our house.
#1446. Wonderful therapists who are helping our princess reach her potential.
#1447. A support system to help us through crazy weeks like last week (and this week, and next week).
#1448. The excitement of anticipating another Master Books party. (Please join me on Thursday, October 18, 2012, from 8:00 – 9:00 p.m. CT!)
#1449. Encouragement that comes from reading classic books from giants in the faith.
#1450. Peace and assurance from meditating on scriptures that speak to my struggles.
What changes will you make this week to experience the abundant life?
Photo credit: Jennifer A. Janes