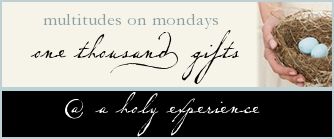 Answered prayers come about in different ways. Some prayers are answered quickly. Some prayers are answered only after lengthy periods of prayer and waiting. Last week we received an answer to prayer on some paperwork that we filed for Princess Roo four months ago. We had waited for so long that I had really turned it all over to God (finally!) and knew that whatever the decision on this paperwork, that God would take care of her needs.
Despite the fact that I had all but given up hope that she would be approved, she was! I pray that this will relieve some of the pressure we've felt about some of her care. Time will tell, but I do know that God will provide somehow.
I try so hard to take one day at a time and to trust God for daily provision. He is always faithful. It's my reasoning and doubt that get me into trouble. I have so much to be thankful for, including:
#1431. The paperwork that was approved for Princess Roo.
#1432. Cooler temperatures that make it seem like we'll get to experience fall this year.
#1433. Rain that has eased the drought conditions some.
#1434. A field trip to the fire station.
#1435. Frontier Days at a nearby state park.
#1436. Menu planning, and the money it saves us.
#1437. New gluten-free, dairy-free recipes my family loves.
#1438. Friends who help out during crazy months like this one.
#1439. A couple of days offline last week. It was frustrating at first, but a nice break when I relaxed.
#1440. Companies that help me understand my children better so I can be a more effective parent and teacher.
What are you thankful for today?
Disclosure: This post contains affiliate links.
Photo credit: Jennifer A. Janes