My posts have been sporadic lately because we have been busy! Honestly, we haven't been feeling well either. The pollen counts are high, and that has taken a toll. Some of us also seem to be fighting a virus right now.
For those of you who have been following my Facebook page, you know that Princess Roo had some specialist appointments last week. She saw endocrinology for the first time and visited her allergist/immunologist. (This is a different doctor than the one we saw last month.) The endocrinologist didn't think that her growth issues are caused by a problem with her endocrine system, but she did some lab work to be sure. Those results should be ready in two to three weeks, although we think they might have already found something that's borderline because of some mail we got yesterday. I'll have to call about that tomorrow and see.
The allergist/immunologist agreed with the immunologist's plan of staying off the infusions this summer to do some tests on her immune system. Hopefully, we'll have all of those results in and can look at them as well as her overall state of health to make some decisions for the fall and winter.
All business aside, it has been a couple of weeks since I have posted a gratitude list, and lots of wonderful things have happened!
#1311. Safe travel to and from our specialist appointments (something I never take for granted).
#1312. Zoo field trips with online-turned-in-real-life friends before heading to the hospital.
#1313. Specialists who are in agreement on the plan for treatment.
#1314. A great birthday party for Princess Roo. (This is just a sneak peek. Check back Friday for more pictures!)
#1315. A successful blog transfer from wordpress.com to wordpress.org. (If you haven't re-subscribed, be sure to do that!)
#1316. New opportunities that I can take advantage of because of the blog transfer.
#1317. The connections being made even before we arrive at The 2:1 Conference.
#1318. A special mother/daughter nature walk with BookGirl.
#1319. The project BookGirl is working on (with my help) . . .
#1320. . . . and the warm response she has gotten from many of you. (Thank you!)
What blessings are you giving thanks for today?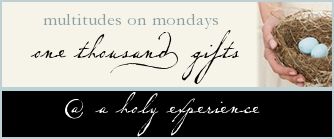 Photo credit: Jennifer A. Janes