About mid-week last week, things finally slowed down here. I guess we finally ran out of appointments to go to! Seriously, we have some appointments this week and next week (yes, Thanksgiving week too!) but we're not running as much as we have been the past few weeks. I get to spend time on the phone this week to try to work out some issues with our health insurance—the same issues I've tried to resolve since we switched to this plan in July. I'm praying for favor and that this is the week the issues are finally resolved and they start paying for Roo's infusion medication! I also hope to get some test results on Roo and me.
As always, despite the crazy schedule we've had for the past few weeks, I have much to be thankful for:
#1096. a slower schedule this week and next!
#1097. keeping our lessons going in the midst of the craziness.
#1098. working together as a family . . .
#1099. . . . to get the girls' rooms mostly cleaned out. (Only closets and dresser drawers left!)
#1100. being convicted by a section about grace in a book that is leading me to seek to walk in the Spirit like never before so that my family will see His grace and love at work in my life.
#1101. Cindy Lou Who hair that brings laughter during stressful weeks.
#1102. the holiday breaks that are getting close!
#1103. more rain in the forecast. (I hope we get it this time!)
#1104. quiet hours when I can hear myself think . . .
#1105. . . . and the rambunctious joy that fills my heart and home the rest of the time.
What joy is your heart filled with today?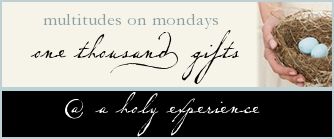 Photo credit: Jennifer A. Janes