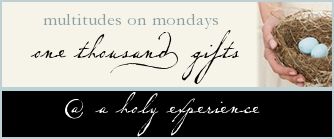 I meant to write this post on Saturday, and then on Sunday. And today. Here it is, 10:00 p.m. on Monday night, and I'm finally sitting down to write my gratitude list for this week. The truth is, I spent Saturday recovering from our last out-of-town specialist appointment of the month. I also celebrated 13 years since I met my wonderful husband on a blind date. (You can read that story here.) Yesterday afternoon I prepared soup for my family's supper and then took a nap while it warmed up in the crock pot. I spent the evening snuggling with my hubby while we watched TV.
Today I did lessons with the girls and then spent four hours making gluten-, milk-, and egg-free cookies, iced and sprinkled, for their fall party at dance tonight. Then I went to dance with them and enjoyed that whole experience.
All little things. Things I could have said "no" to so I could sit at the computer, writing blog posts and posting updates to Facebook and Twitter. But I chose not to do those so I could be present in the moment, enjoying time with my husband and children. Precious moments  I'll never get back if I waste them.
This week, instead of trying to think of the big things I'm thankful for, I'm going to list the little things:
#1451. A family to spend time with.
#1452. Strength to walk away from the computer for a while and enjoy my family.
#1453. Recipes that allow me to prepare food to accommodate Princess Roo's limited diet that still tastes great. (This taco soup recipe came from Simplified Dinners – Gluten-Free, Dairy-Free Edition.)
#1454. Strength and health to handle four hours on my feet baking and decorating cookies with the girls for their dance parties.
#1455. Ability to spend three hours at the dance studio to see them experience their fall parties.
#1456. Friends in our "dance family" that make those three hours fun.
#1457. Laughing with the girls at my stick figure drawings as we begin another Grapevine Studies Bible study of the birth of Jesus. (Their drawings are better than mine.)
#1458. A heater that works to keep us warm on chilly fall nights.
#1459. Princess Roo's giggles.
#1460. Listening to BookGirl tell me what's happening in the latest book she's reading.
What little things are you thankful for?
Disclosure: This post contains affiliate links. Thanks in advance for supporting our family!
Photo credit: Jennifer A. Janes